Hanging man is a single bearish reversal candlestick pattern. It has a long lower shadow and a small body at the top.
The color of the main body of a hanging man candle can be red or green.
Here is an image showing a hanging man with a red body, and another with a green body.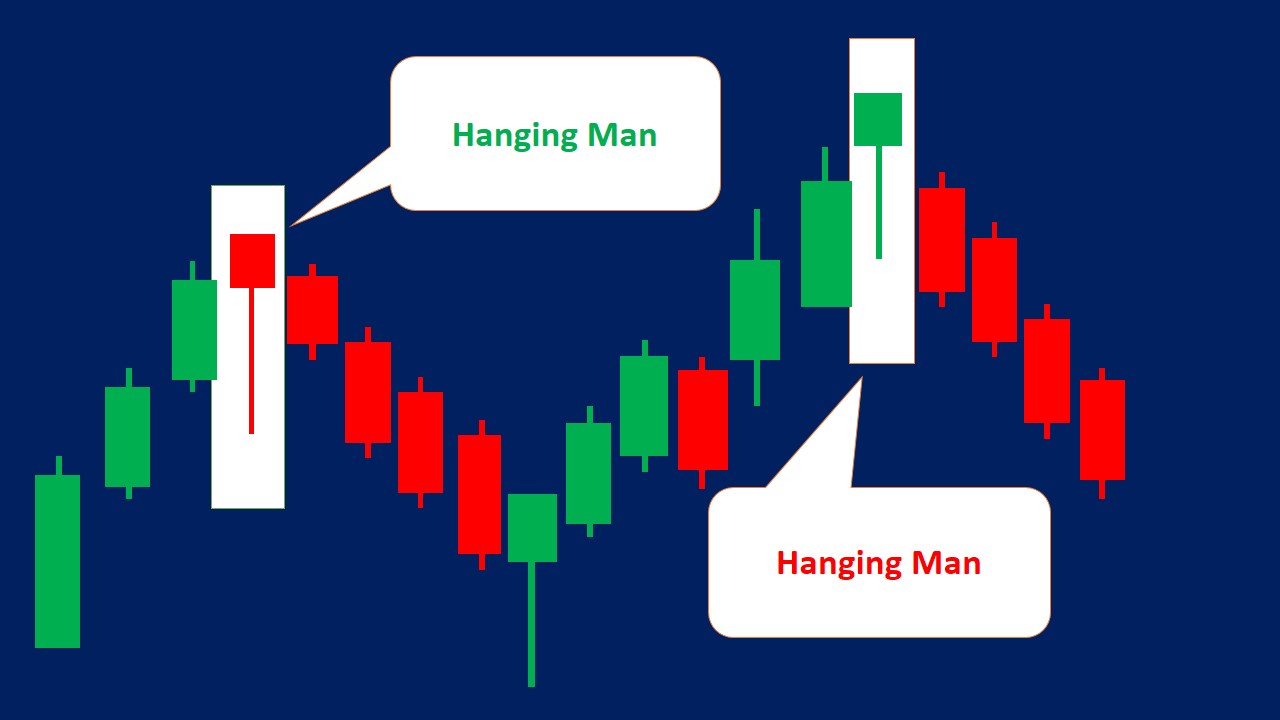 This article illustrates trading techniques of hanging man candlestick patterns and provides you with some examples.
Let us begin!
How to Trade a Hanging Man Pattern?
Since it has a body at the top, it looks like a bullish candle. Due to its bullish look, it needs potent signals to reverse a trend.
The following are signals to search for on the chart:
It should form after a long uptrend. A short uptrend like a correction is not healthy to trade this pattern, but possible to work. If a hanging man appears after a reversal, it is only a sign of indecision.
Generally, wait for a confirmation after a hanging man, such as a gap-down or a tall red candle.
Blend a hanging man with other technical tools and signals, such as patterns and indicators.
Check the economic calendar when a hanging man formed and after it.
Combine your analysis with fundamental analysis because a hanging man needs more confirmation.
Sell when you are convinced. And, put your stop loss a little bit above the hanging man.
A hanging man candlestick pattern is not as powerful as other structures, such as shooting star and engulfing patterns. Thus, always trade it with care.
Examples of Hanging Man Candlestick Patterns
I selected three examples explaining the reasons, which I believe helped the pattern change the trend.
Example #1
On 20 February 2020, the Twitter stock made a green candle hanging man. It formed after a relatively long uptrend. Even though its size was small, due to strong supporting signals, it could drag down the price.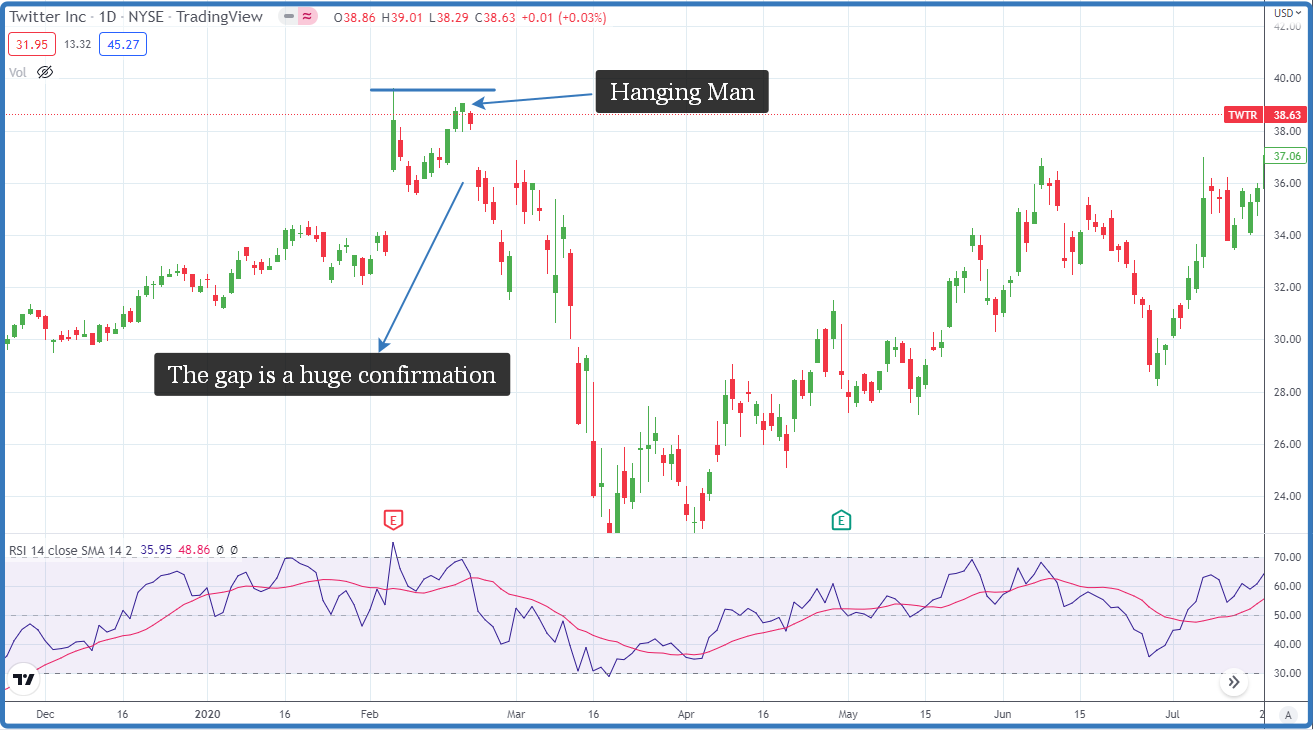 Here are two potent signals:
As mentioned earlier, traders are recommended to wait after a hanging man to confirm it. Two sessions later the price started after a gap-down, one of the most powerful confirmations. As you see, the price declined way below.
Before the hanging man, nine candles earlier (on earning day), a tall green candle formed after a gap-up. This candle created a resistance line. Nine sessions later, the hanging man formed almost near the resistance line. However, it could not break it. Not being able to break a resistance line is a powerful reversal signal.
There was not any bad news (I searched) about Twitter. However, the two above signals were potent enough to make the price decline, specifically the gap-down. If you sell in these conditions, put a tight stop loss above the hanging man.
Example #2
On the first of March 2021, the Twitter stock made a red hanging man candlestick.
It was barely a hanging man because hardly its lower shadow was twice the size of its body.
However, the price dropped due to strong signals confirming it.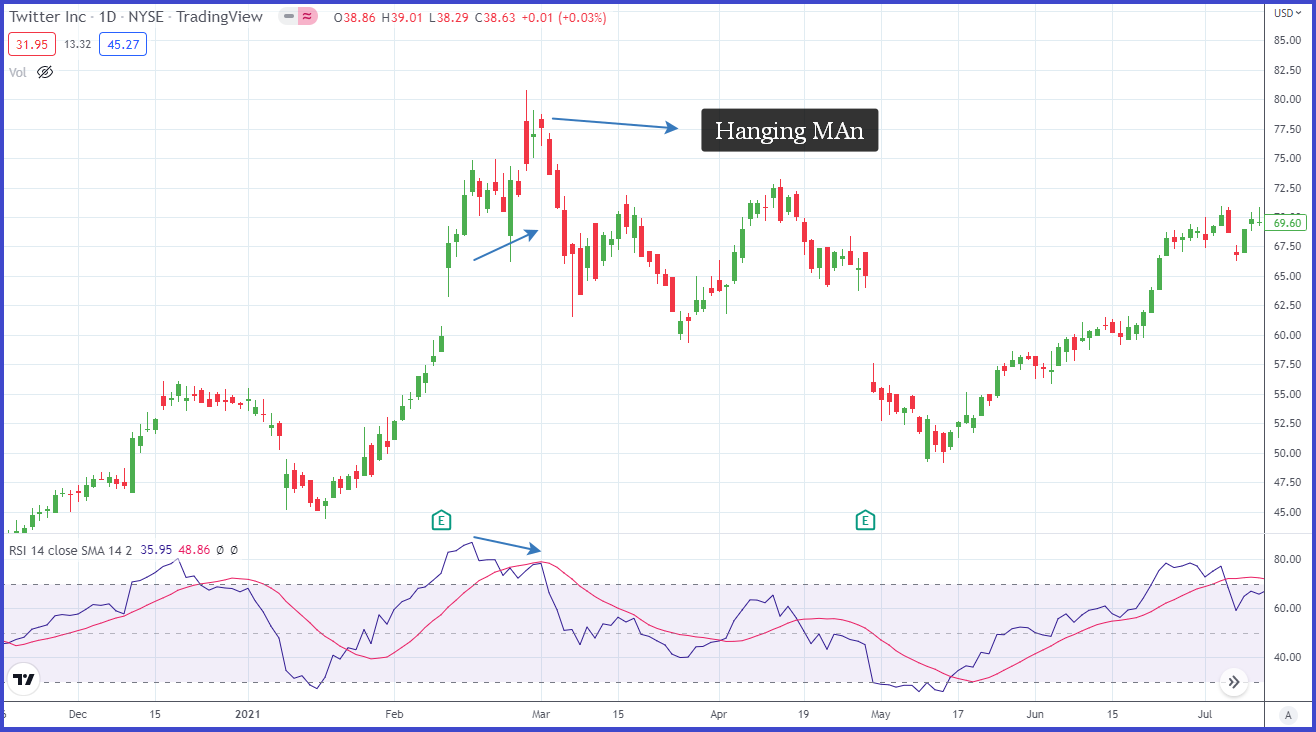 Those strong signals are the followings:
This hanging man appeared after a long uptrend. At the end of the trend, in addition to the hanging man, there is one long red candle and a doji as well. The upper shadow of the red candle and the doji are indicators of bulls' struggles. They are signs of weakening bulls.
A day later (2nd of March), the price opened after a gap-down and closed far below. It is a potent confirmation for the hanging man.
The RSI Indicator showed a divergence. When a leading indicator such as RSI converges or diverge, it is the first sign of reversal.
After the gap-down, it was a good trading opportunity. Remember that the candle which opens after a gap down should not fill the gap, to be considered a gap. In the above case, the entry point is at the end of the second of March. And, the stop loss should be put above the hanging man.
Bottom Line
A hanging man is not a very strong bearish reversal candlestick pattern. You need confirmations and strong confirmations to trade it.
Happy trading!