This article compares MetaTrader 4 vs 5. MetaTrader 4 (MT4) and MetaTrader 5 (MT5) are trading platforms developed by MetaQoutes Software, a company based in Cyprus. MetaTrader 4 was introduced to the market in 2005, and the MetaTrader 5 in 2010. And are the two most popular trading platforms for Forex trading and trading other assets via CFDs.
Even though the MT5 looks like an upgraded version of the MT4, it is not. They are different platforms with different capabilities and tools. For example, you can not install an MT4 indicator or Expert Advisor in MT5.
To make this comparison, MetaTrader 4 vs 5, I downloaded both versions from Exness's website, one of the most trusted brokers in the world. Downloading from a single broker's website is essential because each broker has its offerings and data.
There are many things different between the MT4 and MT5. However, this article explains critical differences (not all) that could have an impact on choosing one of these platforms.
Read more: How to Use MetaTrader 4? This Is a Complete Guide
1. MetaTrader 5 Has More Technical Indicators
By default, the MetaTrader 5 has 38 technical indicators, while the MetaTrader 4 has 30.
Having additional indicators is not important. You can buy and add free indicators from the MT4 market. Moreover, these additional indicators that come with MetaTrader 5 are not popular and could be worthless to you.
The following image shows additional indicators that come with MetaTrader 5.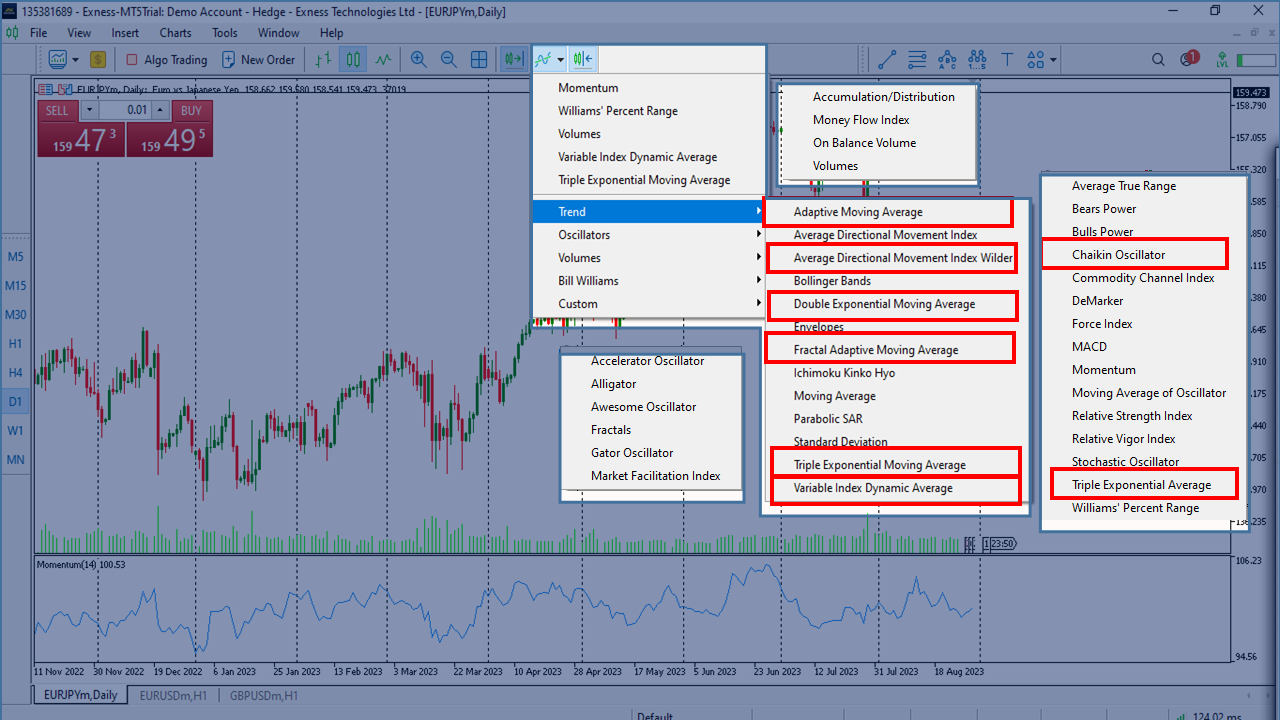 2. MetaTrader 5 Has More Graphical Tools Than MetaTrader 4
Graphical objects are tools that help traders to predict future price movements. Some are built using mathematical and geometrical techniques, and some are simply a sign.
MT5 has 44 graphical objects, such as Lines, geometric shapes, channels, Gann, Fibonacci tools, Elliott tools, Arrows, and more. Among them, I love Elliot Wave drawing tools and Arrowed Line.
On the other hand, MT4 has 31 graphical objects and is missing Elliot Wave tools and Arrowed Line, which I love.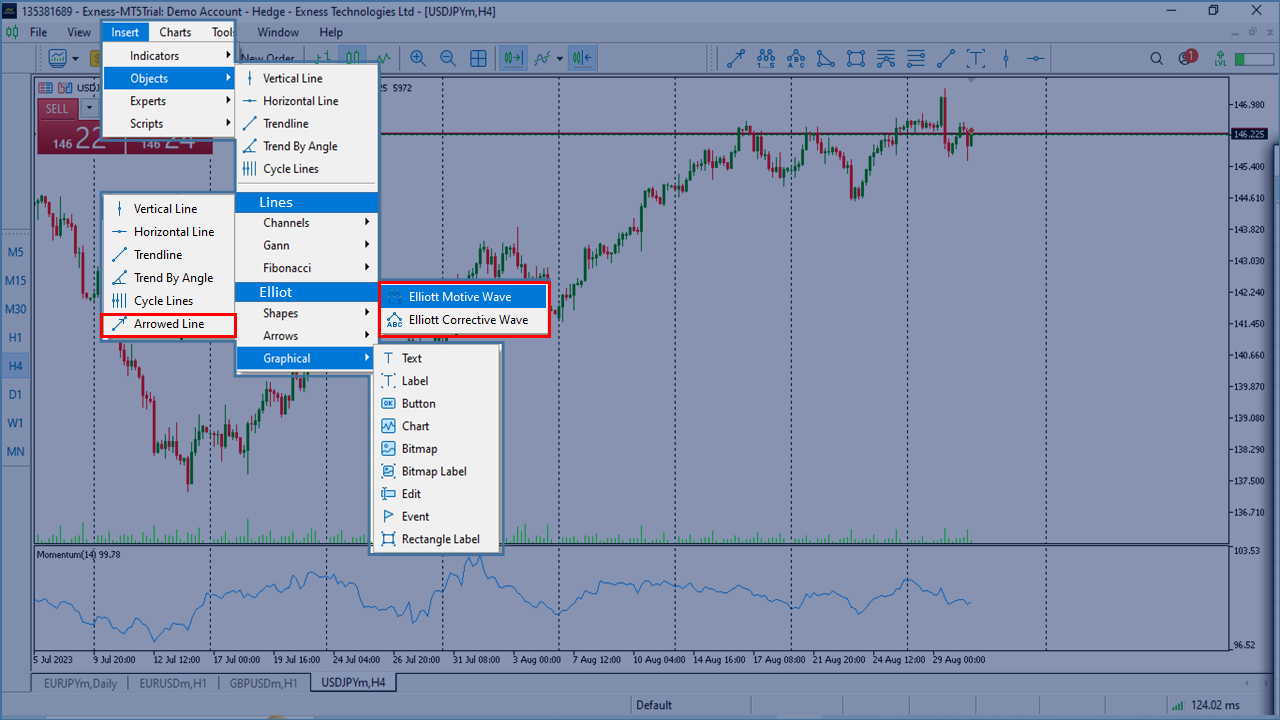 3. MetaTrader 5 Includes More Markets
Initially, MetaQoutes built the MT4 for trading Forex. However, brokers offer trading services for other assets via CFDs too.
As the MT4 platform became popular, MetaQoutes felt a need to build a similar platform in terms of user interface for trading not only Forex but also stocks, futures, bonds, and options.
4. MetaTrader 5 Offers More Timeframes
Some traders may not need more than nine timeframes that MetaTrader 4 offers, but some may need.
For those who prefer more options, MT5 is better and offers 21 timeframes.
5. MT5 Offers Economic Calendar
MT5 has a built-in Economic Calendar to keep track of the relevant financial news. However, MT4 does not.
You can open the economic calendar by going to Toolbox and clicking on the Calendar.
An economic calendar lists events that impact financial markets. In other words, it lists macroeconomic events and data that impact the whole economy in an economy.
An economic calendar is a must for traders and helps to track important economic events that may affect financial markets.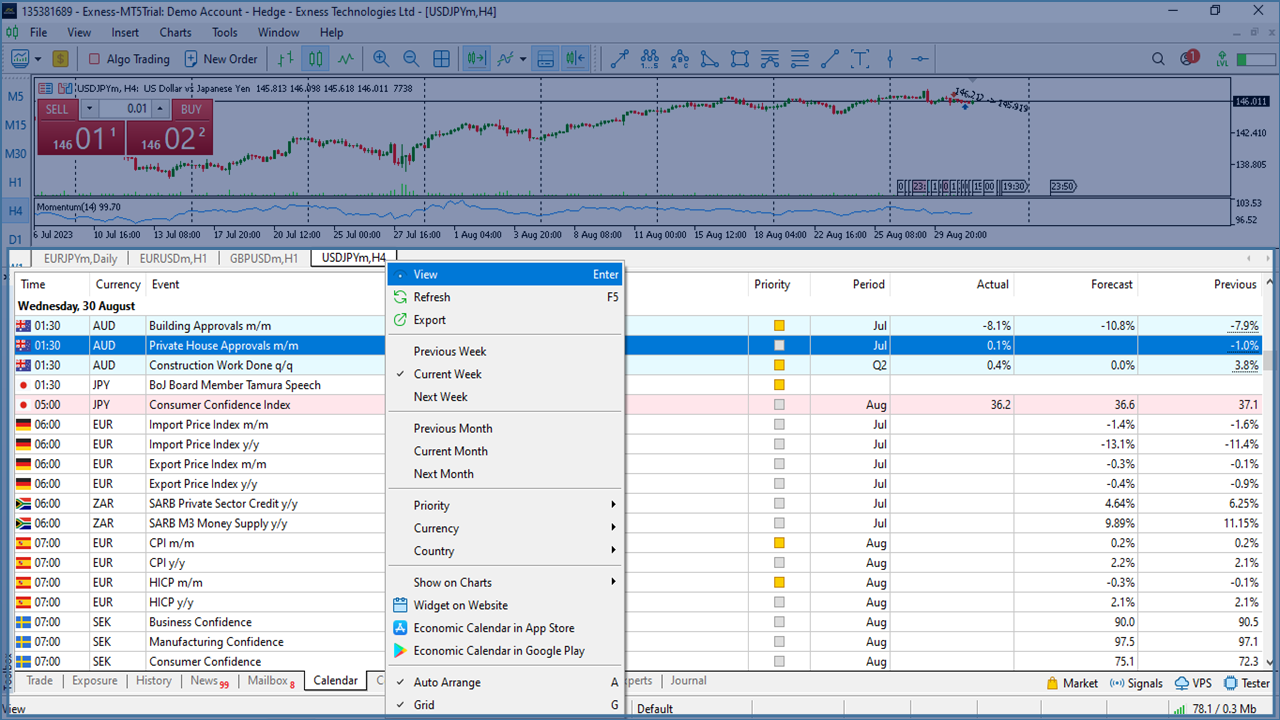 6. MetaTrader 5 Offers 2 More Pending Orders
There are two types of orders, market execution, and pending orders.
Market execution happens instantly, and pending orders accept your conditions to place a trade.
MetaTrader 5 offers six types of pending orders. Conversely, MetaTrader 4 offers four.
Read more: Types of Forex Orders: Fully Explained