The Consumer Price Index (CPI) is the weighted average price change of a basket of goods and services consumed by households. It is an inflation measurement tool that looks at the general price increase from the consumer perspective.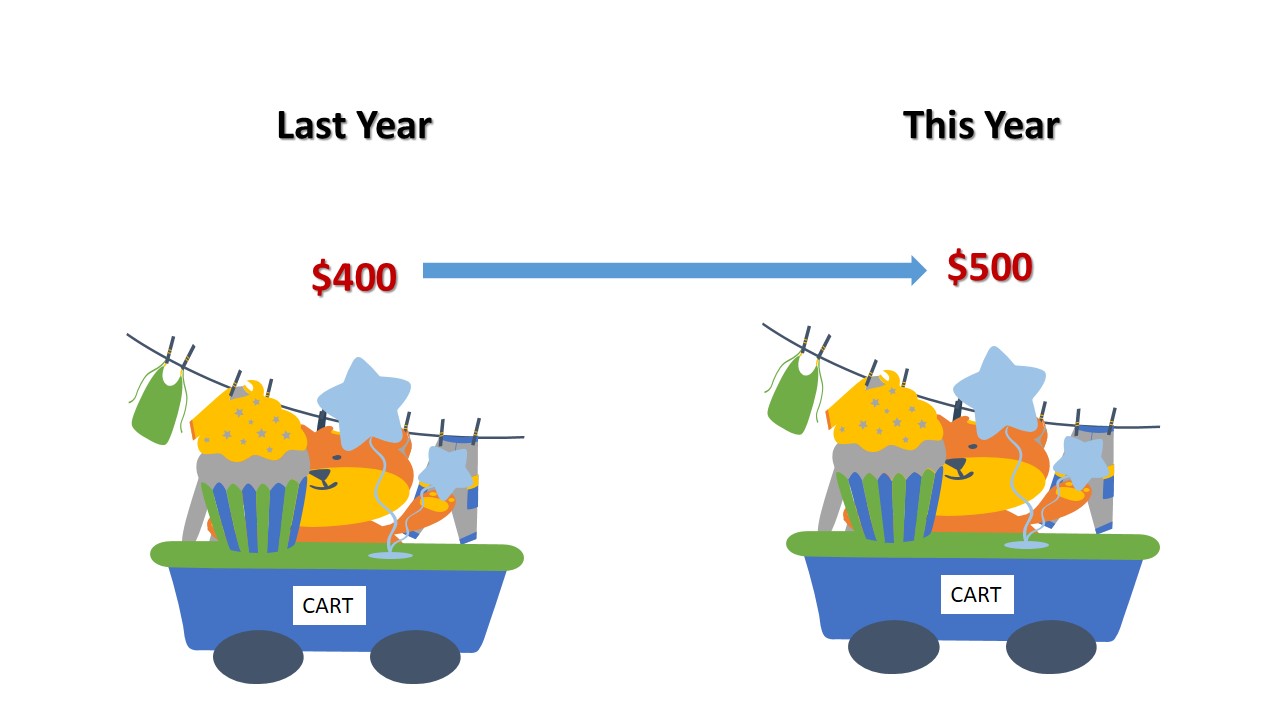 The weighted average here means that calculators consider the weight of products and services in terms of value. For example, if you buy a suit three times a year, its price is multiplied by three to get its weight in a basket of goods and services.
The CPI is one of the most important economic indicators. Governments, businesses, and household track to plan their investment and consumption behavior.
Types of CPI
There are various CPIs for specific population groups to measure how prices have impacted them.
When a nation is experiencing galloping inflation or walking inflation, understanding different types of CPI becomes more valuable as they tell us what basket of goods and services has risen more or less than others. Or simply, it helps us to compare better.
Here are some of the CPIs.
CPI-U: CPI for Urban population
CPI-W: CPI for Wage earners and clerical workers
CPI-E: CPI for Elderly
CPI-AL: CPI for Agriculture Labor
CPI-RL: CPI for Rural Labor, and
So on.
What Is Core CPI?
The core CPI measures the average price change, excluding volatile products such as energy and food.
Energy prices depend on the political environment and producers of these commodities. Because most countries do not produce fuel energy that suffices their needs, the core CPI becomes more valuable for the judgment of economic activities.
And food production level depends on rain and whether that governments can not influence. So, food exclusion makes sense for the calculation of the core CPI.
As a result, the core is a helpful indicator measuring economic activities that the government can manage.
How Do Agencies Calculate Consumer Price Index (CPI)?
CPI is calculated based on a base year, the first year of the series that CPI measurement has started. And the base year is considered 100%.
The quantity used for measuring CPI and inflation rate is based on the base year and doesn't change till another base year is selected.
CPI expresses the price change in points that tell us how much the price has risen since the base year.
These are steps that agencies follow to calculate the consumer price index (CPI).
Collect the CPI data by surveying related households. Generally, agencies survey the urban population from different cities in a nation;
Find the prices of a fixed basket of goods and services are, and attach the weight of these goods and services;
Select the base;
Calculate the CPI index.
Example of Consumer Price Index Calculation.
Let's solve an easy example.
Assume that people spend only on three baskets of goods and services, A, B, and C.
Prices and quantities are provided in three different years in the following chart.
| | | | | |
| --- | --- | --- | --- | --- |
| Goods and services | Quantity | Price in 2019 | Price in 2020 | Price in 2021 |
| A | 30 | 50 | 60 | 65 |
| B | 40 | 45 | 50 | 52 |
| C | 50 | 30 | 35 | 40 |
Now it is time to calculate the CPI.
Now, we need to calculate the total cost of a basket of goods and services in a different year which is available in the above table.
And those costs are:
For 2019 total cost: (30*50) + (40*45) + (50*30) =1500+1800+1500=4800
For 2020 total cost: (30*60) + (40*50) + (50*35) =1800+2000+1750=5550
For 2021 total cost: (30*65) + (40*52) + (50*40) =1950+2080+2000=6030
Here is the Consumer Price Index (CPI) formula:
CPI in year x = (Cost of the basket in year x)/cost of the basket in the base year) x 100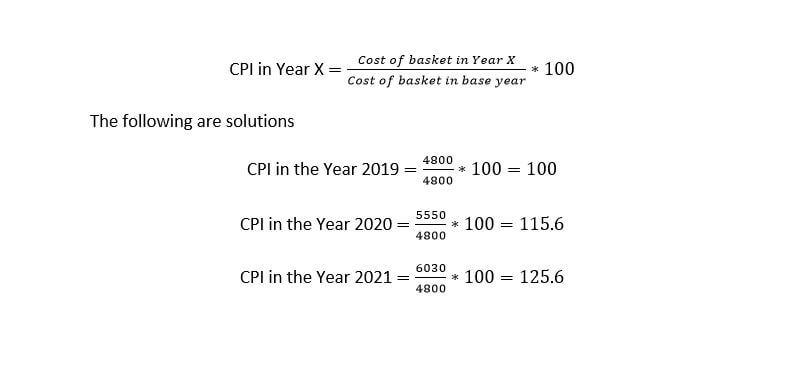 In the above solution:
CPI in 2019 is 100 points which is 100%
CPI in 2020 is 115.6, which means that price has risen 15.6 points or 15.6% compared to the base year (2019).
CPI in 2021 is 125.6, which means that price has increased 25.6 points or 25.6% compared to the base year.
Calculation of Inflation Using CPI
CPI is one of the most used tools for the calculation of inflation.
The formula inflation calculation using the CPI is the following:
Based on our calculation:
The inflation rate in 2020 is 15.6%
The inflation rate in 2021 is 8.6%
Problems of Consumer Price Index (CPI)
CPI measures a fixed basket of goods and service price increase over time. It gives us great information about the economic situation and expectations of consumers.
However, the CPI number is not perfect. Like any other thing, it has flaws to consider while interpreting CPI numbers.
1. Basket Components Selection
The goods and services in the basket do not necessarily represent everyone's consumption behavior. It can hugely vary from household to household.
For example, athletes consume protein powders, more meat, and supplements, while the general public does not consume these products. And the CPI basket does not consider these differences.
2. No Differentiation Among Goods and Services
Some of the goods and services put in the basket might be common goods for some and luxury goods for others that impact the frequency of purchases.
3. Quality and Quantity of Components
The quantity of a product or service in the consumer basket doesn't change in CPI measurement. In reality, the number of goods and their weights consumed at base year can be lower or higher than today. Many factors including cultural changes and business cycle directly, or indirectly impacts people's choice.
In a booming market, the consumption basket varies from recession time, and people tend to spend more money on luxury goods and services, while during a recession consumers lower the number of luxury goods and services. For example: in the past, it was much less likely to eat out, while today, it is a regular phenomenon, and the CPI basket doesn't care about it.
Moreover, CPI doesn't care about the quality of products and services that rises over time.
4. Survey Representation
The households surveyed may not represent the whole nation. There can be errors in collecting data from these people. The data could be mainly from rich, mediocre, or poor households alone.
5. Comparison of CPIs
Comparing the CPI of a nation with another nation could be full of errors. The elements of the basket and types of households chosen for the interview can differ, which affects the quality of the comparison.
For example, Islamic countries do not drink alcohol which is one of the components of the CPI basket in many other countries.
6. Base Year
The base year in some countries like the USA is from decades ago, which doesn't represent today's consumption pattern. Even if the base year changes, comparison becomes problematic.
For example, the CPI base year in the USA is 1982 while in the Euro area it is 1999.
7. Consumption Behavior
Consumption behavior can change much faster than the fixed basket of goods and services. For example, the basket of the base year chosen ten years ago varies a lot from today. If the basket elements change, the comparison will be much more difficult.
What Are the Differences Between GDP Deflator and Consumer Price Index?
Both the GDP deflator and the CPI measure the average price changes.
However, some differences exist that make both of them essential.
Here are some of them:
GDP deflator sees from a big lens. It does not differentiate who consumes or buys. But the CPI measures prices that affect consumers.
GDP deflator excludes imported goods by counting only those products and services produced in a country. On the other hand, the Consumer Price Index does not differentiate between producers.
GDP deflator does not have any basket or list of products and services while the CPI has.